0 Baja California Diaspora around the world
Our in-person family gatherings
Ireland's President Higgins family message
Our TEDx talk about family gatherings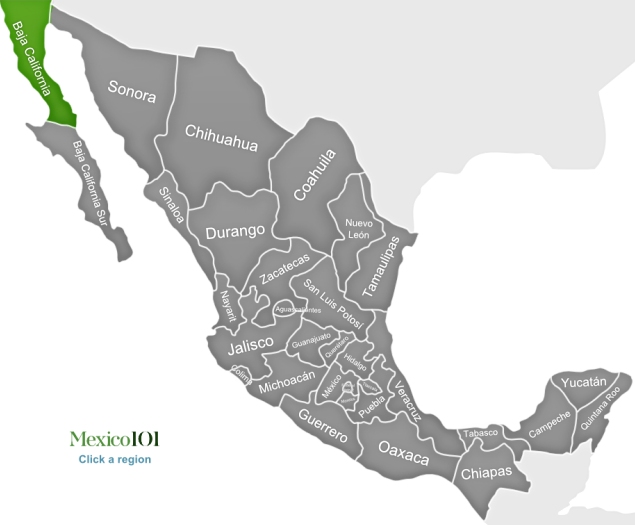 Baja California
Separated from the rest of Mexico by the Cortez Sea, Baja California forms the second longest peninsula in the world. It is the northernmost as well as the westernmost of the 31 states in the country, it is home to the busiest border crossing port at Tijuana. The state offers travellers the taste of a different facet of Mexico. With its winding hill side roads, stunning canyons, pristine beaches, luxurious vineyards and scenic shoreline tumbling into the brilliant blue waters of the Pacific, Baja California attracts a large number of tourists from around the world. They come to sunbathe in its beaches, get astounded at evidences of cave paintings left by pre-historic settlers, try their hand at surfing on the Pacific and game-fishing and watching the sun set from decadent vineyards.
In terms of area, Baja California is the twelfth largest state in Mexico. Its unique topography has influenced the climatic distribution in the state such that different weather patterns are observed in various parts of the region. The mountain range of Sierra de Baja California divides the state into different climate zones- the area to its north-west experiences a semi-dry Mediterranean climate while the areas to its east and south experience an even drier climate. The Vizcaino and Sonoran desert are located to the south and the east of the mountains respectively. The central part of the highlands has a few picturesque valleys like the Guadalupe Valley, which is the major wine producing area in the country and enjoys a humid climate. The islands located near the shoreline of Baja California experience a sort of tropical climate.
The economic scenario of Baja California is strengthened due to its natural resources as well as its geographical proximity to the United States. The main avenues of income include agriculture, mining and maquiladoras or manufacturing assembly plants which pay particular attention to low tariff exports. Moreover, vineyards in places like the Guadalupe valley act as a major source of revenue and employment. Owing to its numerous beaches, biodiversity and entertainment options, the state has evolved as a preferred travel destination among international tourists.
Baja California has a lot to offer to travellers, from surfing experience on the Pacific on its West Coast beaches to game fishing at Mexicali, Ensenada and San Felipe as well as remnants of Spanish colonisation in forms of Misión San Miguel Arcángel de la Frontera, Misión El Descanso and Misión San Vicente Ferrer. The northern part of the state including the Calafia and Guadalupe valleys is famous for its vineyards while prehistoric cave paintings can be seen in El Vallecito and Las Pintas. From EL Altar at the San Pedro Mártir National Park one can see sweeping views of both the Pacific Ocean as well as the Sea of Cortez.
Endowed with picture pretty locations and hospitable spirited people, Baja California is a sweet escape that grows on you.