0 Tamaulipas Diaspora around the world
Our in-person family gatherings
Ireland's President Higgins family message
Our TEDx talk about family gatherings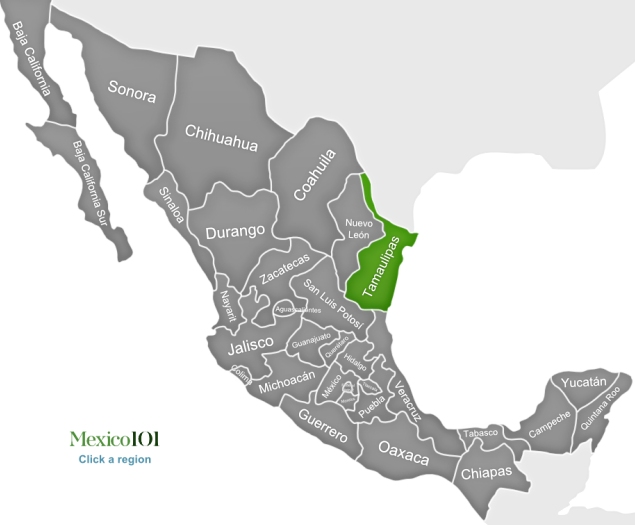 Mexico Tamaulipas
Located along the north eastern coast of Mexico bordering the Gulf of Mexico, the state of Tamaulipas has an eventful history that extends to 8000 years of human settlement. The state has witnessed the rise and fall of aboriginal cultures, Spanish invasions as well as the political upheavals in modern Mexico. Since Tamaulipas shares a 370 km long border with the US state of Texas, the US-Mexico relations play an important role in the state's demographics and policy formulations. It falls in a zone of fertile soil called La Huasteca and hence enjoys an ideal climate for agricultural practices.
The western part of Tamaulipas is dominated by the Sierra Madre Oriental Ranges while the eastern part is made up of coastal plains bordering the Gulf of Mexico. The central part of the state is characterised by grasslands and pastures with scant and shunted vegetation and the Rio Grande or Rio Bravo forms the northern frontier of Tamaulipas with the United States. Near the Sierra Madre are located warm valleys and high peaks. Several rivers traverse the state to flow into the Gulf of Mexico, thus creating conditions conducive to agricultural activities. Most of Tamaulipas experiences a hot and dry arid climate though the conditions are more hospitable near the coast. In fact, the Huasteca region is prone to cyclones since winds flow in both from the east and the south east.
Tamaulipas in highly active on the manufacturing factor with more than 300 maquiladoras or manufacturing assemble facilities located throughout the state. The southern portion of the state is engaged in chemical and oil treatment plants that also produce several varieties of resins, polymers and acrylic fibre. Mining, services, trade and finance as well as the tourism industry act as major avenues for revenue generation. The state produces a large amount of wheat, corn and cotton and is also known for its livestock rearing industry. Since it is located just adjacent to the Gulf of Mexico, the fishing industry flourishes as well.
For the history enthusiast visiting Tamaulipas, a trip to Matamoras is a must. Located in close proximity to the US Mexico border, the city gives you the opportunity to experience a number of things, from the historic main square to the 19th century Cathedral of Nuestra Señora del Refugio, the Opera Theatre and the Puerta Mexico or New Bridge. The coastal region also boasts of a number of beautiful beaches where meandering rivers find their way into the sea with rich flora and fauna adorning their confluence. La Barra del Tordo is a particularly pretty quaint little beach where you can even have a hearty meal of local seafood.
Whether you are an outdoor enthusiast, a beach bum or simply someone looking for a rejuvenating experience in a different land, you cannot go wrong with the Mexican state of Tamaulipas.