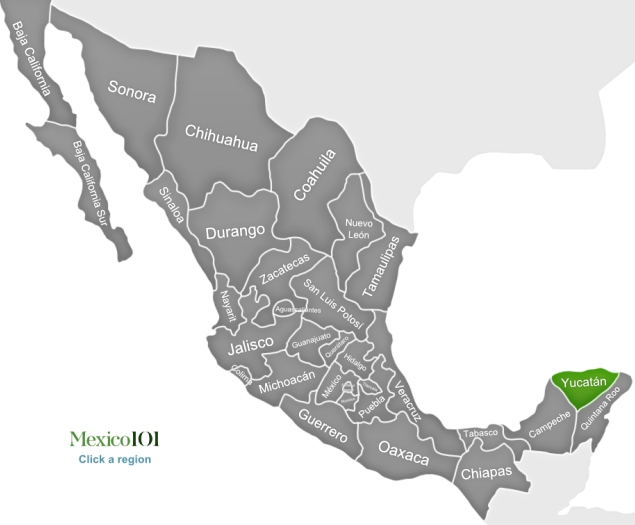 Popular with tourists and following the lead of Cancun, this region is infused with tropical scenery and a rich heritage as witnessed at the many snorkeling sites along the coast and the enchanting Maya ruins. Spanish colonial buildings and towns can be found throughout the peninsula but in truth, tourism is the mainstay when it comes to talking points and it is also the driving force of the economy too.
Climate and Geography
Located next to the states of Campache and Quintana Roo, the peninsula enjoys a tropical climate with hot humid weather for most of the year and heavy downpours during the summer. Yucatan is also a coastal region which gives way to the flat nature of the terrain with little variation with the sole exception of the Puuc hills in the south.
Population and Cities
More than two million inhabit the region and this is also the case for some of Mexico's cities, for the Yucatan Peninsula is also home to many major cities including Valladolid, Progreso, Progreso and Mérida. Spoken by almost half of the population in on the peninsula, Yucatec Maya is the most common language.
Major attractions in Yucatan
Arguably the most infamous attraction in Mexico is Chichen Itza but the immense sight of El Castillo is not the only incredible ruin to encounter in this region, for you can also find Uxmal, Kabah, Ek'Balam and Dzibilchaltun all within reach of each other. In fact, these are often the motivation for many of the tourists who visit the popular beaches in Cancun and other resorts in Yucatan.
Exotic Fauna
Another characteristic of the peninsula which does in fact differ to much of the country is the large variety of wildlife and marine life in the area, for it is here, you can find beautiful sea turtles next to small-tooth sawfish and if you are lucky, the ominous jaguar in the same environment as the white tailed deer, crocodile, white-lipped peccary and elusive ocelot.
Cancun: Tourist paradise
It must be mentioned that Cancun is not only the main tourist destination in Mexico but it is also the most common vacation destination for North Americans. Although renowned for partying, millennials and Spring Break, Cancun is also a family holiday destination and the tourism industry here has an immense affect on the local economy and surrounding areas.