0 Tabasco Diaspora around the world
Our in-person family gatherings
Ireland's President Higgins family message
Our TEDx talk about family gatherings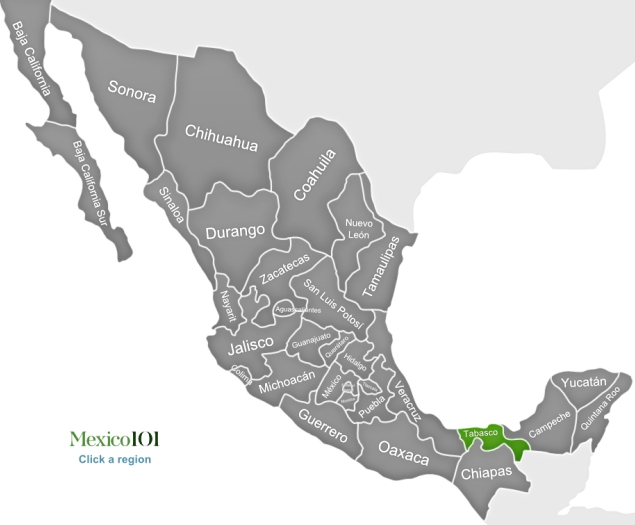 Infested with lagoons, waterfalls and river, Tabasco is almost entirely wetlands which is even more so the case when the rainy season arrives. Dominated by hills to the south and coastline along the east. Incorporating the major capital of Villahermosa, the region is probably best known for mass offshore exploration of oil.
Population and Climate
Many locals from neighboring states such as Chiapas, Veracruz and Campeche have migrated to this region which has an immense population of more than 2.5 million. Surprisingly and in contrast with most other parts in the country, the majority of this population can be found in rural areas. As mentioned, there is a rainy season here in Tabasco but generally, this is a very hot and humid climate in the region which is only eased by the cool breezes along the coast.
Culture in the region
Tabasco has such a rich heritage as can be seen in the vibrant clothing of the locals with many accessories such as handkerchiefs providing even more character to the varied colors you can see. Another highlight of a trip to the region is also found when witnessing the traditional dance and music, which is often made possible by hand made instruments with exotic items such as sea shells being used in their build. And then there is the food, most of the cuisine in Tabasco can be traced back to the ancient Mayan and Chontal peoples who used only local produce including plants, chili peppers and banana leaves.
Tabasco Economy
As mentioned in the opening paragraph, huge oil exploitation is present with the state oil company, Pemex, extracting immense quantities in the region. Aside from oil, there is plenty of agriculture on the interior and much of the economy depends on economy but both salt and fresh water fishing also play their part in producing more than 3% of Mexico's GDP.
Archeological sites
La Venta, an important centre for the Olmac Civilization is one of the many archaeological sites in the region which are protected, restored and hugely popular. Comalcalco, Malpasito Reforma  and Pomoná are all further examples of these incredible sights which offer a fascinating insight into the ancient civilizations which could be found in this region.
Tourism routes in Tabasco
Tabasco is split up into several routes and each of them has a specific focus as follows:
Centro Route - Concentrated on the capital of Villahermosa and the many museums and historic sites including the Anthropology Museum.
Cacao Route - Many "haciendas" where you can learn how the cacao bean is produced to make chocolate.
River Route - Focuses on climbing, rafting and rappling near the Usumacinta and Grijalva Rivers.
Wetlands Route - Mostly animals and plants in the region on land and water.
Mountain Adventure Route - In the highlands with caves and mountains to explore.