0 Chihuahua Diaspora around the world
Our in-person family gatherings
Ireland's President Higgins family message
Our TEDx talk about family gatherings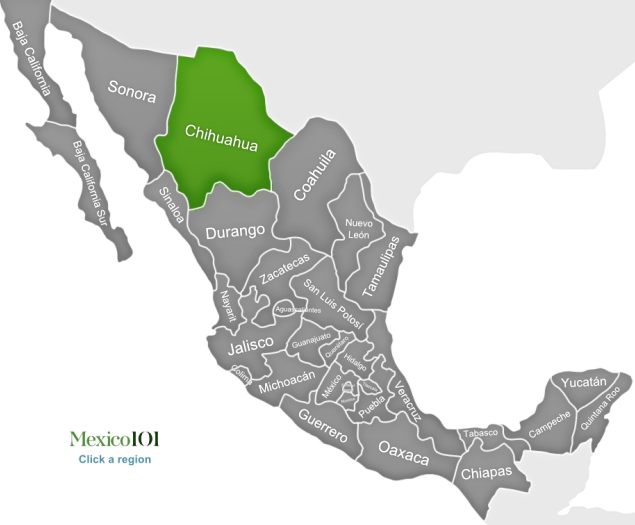 Chihuahaua
The largest state of Mexico, Chihuahua is characterised by geographical diversity, a wide variety of flora and fauna, colonial architecture, strong economic activity as well as great natural beauty. It is interesting to note that in terms of area, the state is six times larger than the United Kingdom. The topographic distribution of Chihuahua has resulted in great climatic variations throughout the state, consequently giving rise to a unique ecological diversity. It is believed that one of the smallest canine breeds, the Chihuahua, originated from this part of Mexico (hence the nomenclature). Today, the state attracts tourists from different parts of the globe for a number of reasons- from the breath-taking beauty of the Copper Canyon and the grandeur of the Paquime ruins at Casas Grandes to instances of once imposing colonial structures.
The name Chihuahua was probably derived from a Nahuatl word meaning 'dry and sandy place'. The region is characterised by high forest cover, rugged mountainous ranges and wide valleys like the Rio Grande and Conchos River Valley. The Sierra Madre Occidental range (which is an extension of the Rocky Mountains that has continued into Mexico) is interspaced by grasslands with short yellow grass. The Copper Canyon system is larger than the Grand Canyon and gives rise to rich biodiversity that thrives around it. Due to the difference in topography throughout the region, the state experiences climatic variations too. From a tropical climate near the coast and pleasant winds in the Rio Grande to harsh climates in the Chihuahuan Desert- the diversity is indeed pronounced.
In terms of economic activity, Chihuahua is one of the richest states in the country. It is Mexico's largest producer of silver and has thriving presence in the manufacturing, mining, aerospace, agriculture as well as livestock produce sectors (Chihuahua Beef is famous throughout Mexico). It also houses the headquarters of the fifth largest oil producing companies in the world- Petroleos Mexicanos or Pemex. Moreover, many manufacturing giants like Honeywell have their presence in Chihuahua as well, the main reasons being the state's great infrastructural framework as well as its proximity to the sea.
The main tourist draw in the state is the Copper Canyon network located in its south-western region. Travellers flock here to experience the magnanimity of the Piedra Volada (Flying Stone Falls) and the beauty of the Candamena Canyon (Canyon of Cascades). Also known as the Lady of the Desert, Chihuahua City also offers specimens of colonial architecture. The Government Palace and Quinta Luz (or Pancho Villa's mansion that has now been turned into a Museum of the Revolution) bear witness to some watershed moments that shaped Mexico's history. Located in the northern parts of the state, the Paquime ruins offer a glimpse into the lifestyle of 13th century Mexico.
Chihuahua is a vibrant state with picturesque landscapes and a rich legacy that has something to offer everyone, from a nature lover to a history enthusiast.