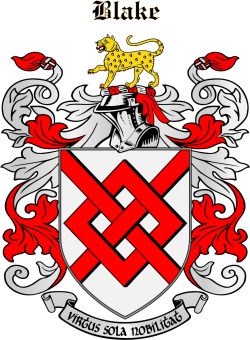 Get this crest printed on...
BLAKE Family History
The Blakes came with the Normans (circa 1170 AD) through Wales as ?Caddells?. On member of the family was considered particularly dangerous so they named him ?Black? or ?Le Blaca? and there the Blake name began to evolve. So you guys have a dangerous streak in you! For hundreds of years the Blakes were one of the elite ?Fourteen Tribes of Galway? as they were one of the richest families in Galway with vast amounts of land (I?m sure you can go back and ask nicely and they might give small bit of land ? given you are family). The Blakes of Galway not only had the money but the power as most of the mayors and sheriffs of Galway city were Blakes.