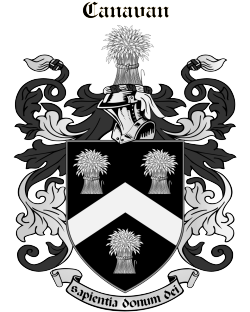 Get this crest printed on...
CANAVAN Family History
This interesting surname is of Irish origin, and is an Anglicization of the Old Gaelic name "O'Ceanndhubhain", the Gaelic prefix "O" meaning grandson or male descendant (of), and the personal name, "Dubhain", meaning "little black-headed one", from the Gaelic elements "ceann", head; "dubh", black; and the diminutive suffix "-an". Traditionally, Irish family names are taken from the heads of tribes, or from some illustrious warrior, and are usually prefixed by "O", as above, or "Mac", denoting "son of". The O'Canavans were hereditary physicians to the O'Flahertys of Lemonfield (County Galway); it was (and is) primarily a County Galway name. Today the surname is almost always written without the prefix "O", and though distributed throughout the four provinces is still most widespread in the Connacht Counties of Galway and Mayo...