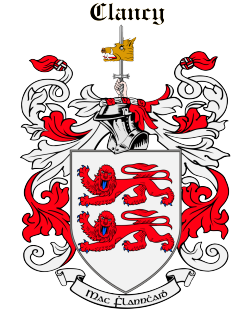 Get this crest printed on...
CLANCY Family History
This famous Irish clan surname originally MacClancy, has a world wide reputation for being in the thick of the fighting. This is not perhaps surprising as the name would seem to translate as 'the son of the red warrior' from the gaelic 'Mac Fhlannchaidh'. Certainly there has hardly been a time in Irish history, when a Clancy has not been involved. There are two main septs, the most important being centred on County Clare, and the village of Cahermacclancy, and to some extent the surrounding counties of Galway and Tipperary, whilst a smaller group can be found in Co Leitrim. The original 'Mac' prefix was lost in the 17th century, but of late some nameholders have readopted it...