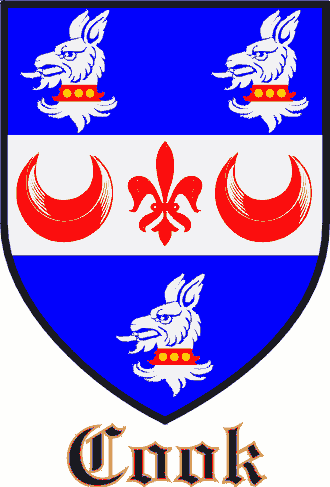 COOK Family History
INTRODUCTION
This distinguished surname, with forty entries in the "Dictionary of National Biography", and having no less than fifty Coats of Arms, is of Anglo-Saxon origin, and is an occupational name for a cook, seller of cooked meats, or the keeper of an eating house. The derivation is from the Olde English pre 7th Century "coc", ultimately from the Latin "cocus", cook, and the surname has a particularly early first recording (see below). It also has the distinction of being recorded in the Domesday Book of 1086, when one Galter Coc was noted in Essex. The surname is also widespread in early Scottish records...
SURNAME
Cook (Variants: Cooke, Coke, Cock, Cooker, Cox) – An English occupational name for a cook, a seller of cooked meats, or a keeper of an eating-house. From Old English 'coc' deriving from Latin 'coquus'. Middle English cok , coke , cook , couk , cuk(e). In Irish and Scottish, the surname usually identical in origin with the English name, but in some cases a reduced Anglicised form of Gaelic Mac Cúg 'son of Hugo' (McCook).
The earliest mention of the name comes over a century before the Domesday Book, in an Anglo-Saxon will dating from approximately 950, where one Aelfsige Se Coc is mentioned. Other bearers relative to the name were Walter le Kuc, 1260 in Assize Rolls (Cambs); Henry Coke, 1279 in Assize Rolls (Somerset); Jacobi Cok, 1381 in Poll Tax (Bristol, Gloucs).
Captain James Cook (1728-1779), born in Yorkshire, was a famous navigator who explored the St. Lawrence, the shores of Newfoundland, circumnavigated the globe charting New Zealand, Australia and explored much of the Pacific and Southern Ocean. His last voyage was to Hawaii in 1779, where the natives killed him.
Mr. Richard Cook, (b. 1809), an English convict born in Probus, Cornwall, UK was convicted at aged 23 in Bodmin on 3rd January 1832. He was sentenced for 14 year for stealing wheat and was transported aboard the ship "Atlas" in 1833 settling in Van Diemen's Land, Australia.
In 1891, the population was widespread across England and Wales with a frequency of 58,047 and 3,593 in Scotland. In 1881, it was recorded as a top surname by occurrence in the Bristol area of Gloucestershire. It was also a top surname in Kent with a popular 2,453 occurrences.
In 1881, Agricultural Labourer, Labourer and Farmer were the top 3 reported jobs worked by Cook. The most common Cook occupation in the UK was Agricultural Labourer and a less common occupation being Coal Miner.
SOURCES: 1881, 1891 Census
1881 Census in Bristol 1881 Cencus in Kent
Dictionary of American Family Homes, P Hanks OUP 2003
Homes of Family Names in Great Britain, H.B. Guppy, London 1890
The Oxford Dictionary of Family Names in Britain and Ireland, P.Hanks, Coats, McClure OUP 2016
1860 Lower, Mark A Patronymica Britannica: a dictionary of the family names of the United Kingdom, London: J.R Smith. Public Domain
1857 Arthur, William An Etymological Dictionary of Family and Christian Names. New York: Sheldon, Blakeman. Public Domain
https://convictrecords.com.au/ships/atlas/1833
J.M.P