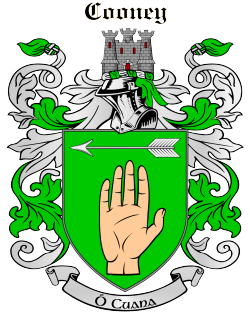 Get this crest printed on...
COONEY Family History
This famous surname is Irish. Recorded in many forms including: Conan, Coonan, O' Cooney, Cooney, Counihan, and Coonihan, it derives from the old pre 10th century Gaelic name O'Cuana. The Gaelic prefix "O" indicates male descendant of, plus the personal byname Cuana or Cuanin, meaning the elegant one. Irish surnames traditionally descend from a nickname for the first chief. These nicknames may refer to acts of war, religious followings or as in this case particular characteristics. This sept originated in the Ulster county of Tyrone, but at an early date believed to be before the 11th century, migrated westwards to North Connacht and established themselves in County Sligo...