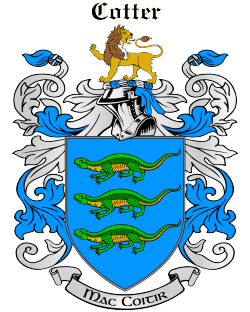 Get this crest printed on...
COTTER Family History
This is an interesting example of an Old English status name, here from the Middle English word "cotter", a technical term of the feudal system for a serf or bond tenant, a villein who hold a cottage by labour-service rather than by paying rent. The derivation is from the Old English pre 7th Century word "cot", meaning cottage or hut and the term "cotarius" is found in the Domesday Book of 1086. The name is also found on the Isle of Man and in County Cork, (Ireland). Here it is an anglicization of the Gaelic "Mac Oitir", Son of Oitir, a personal name from the Old Norse "Otti", fear, or dread and "herr" army...