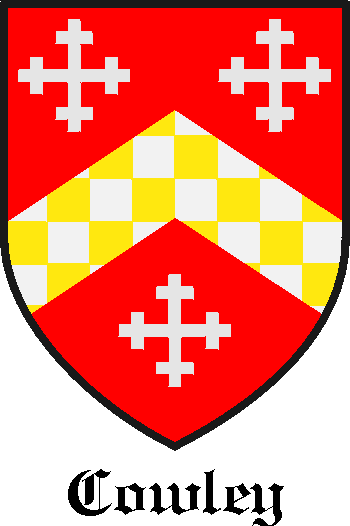 Get this crest printed on...
COWLEY Family History
This name is of English locational origin from any of the several places thus called. Cowley in Buckinghamshire, Oxfordshire, Devonshire and Staffordshire, recorded respectively as Cufanlea, Couela, Couelegh and Covelav in Anglo - Saxon Records for the various counties, dated 949 to 1066, derive their names from the Old English pre 7th Century 'Cufan Leah' meaning 'the wood or clearing (leah) of Cufa' the byname form 'Cufl' meaning block or stump. Cowley in Gloucestershire, appearing as Kulege in the Domesday Book of 1086 is so called form the Old English 'Cu - leah' meaning 'clearing where cows grazed'. Two in Derbyshire recorded as Collei in the Domesday Book, derive their first element from the Old English 'col' meaning 'charcoal'; hence 'clearing where charcoal was burned'...