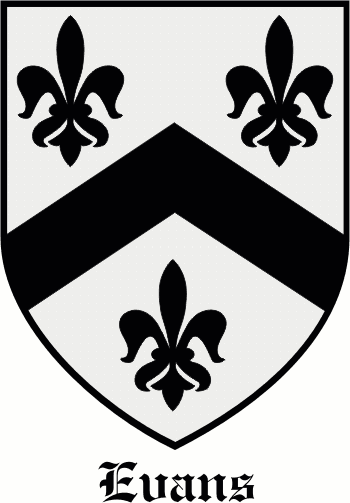 Get this crest printed on...
EVANS Family History
This distinguished surname, of medieval Welsh origin, is a patronymic form of the Welsh male given name Ifan or Evan, itself coming from "Iohannes" through the colloquial "Iovannes", Latin forms of John. The forename John has enjoyed enormous popularity in Europe throughout the Christian era, being given in honour of St. John the Baptist, St. John the Evangelist, or the nearly one thousand other saints of the name. The ultimate derivation is from the Hebrew name "Yochanan" meaning "Jehovah has favoured (me with a son)" or "may Jehovah favour this child". The surname Evans emerges in the early part of the 16th Century (see below), and in the modern idiom takes the forms: Evans, Evens, Evins, Evance, Ifans, Ivings and Heavans...