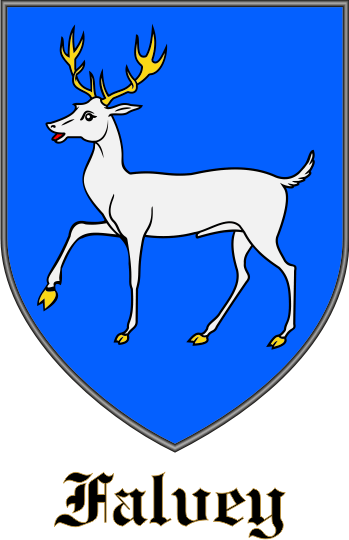 Get this crest printed on...
FALVEY Family History
Recorded as Falvie, Falvey, Falvoye, and Felvey, in the British Isles, and as Fauve, Fauvet, Falvy, Falvet, Fauvin, Fauvette and others in France, this was originally a surname of early French origins. According to the "Dictionnaire etymologique de Noms de France" it is a surname of ancient origins and refers to the colour of a horse, specifically fawn. Quite why anybody should should be called "fawn" after a horse, is far from clear, and the dictionary offers no explanation. In fact it confuses the situation by suggesting that there are other meanings, such as that it could refer to a maker or wearer of fawn coloured clothes, or that fawn was a colour used in Ancient Rome by the nobility or senate to show wisdom, and hence in later times may have been applied to a wise person...