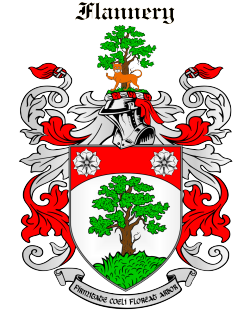 Get this crest printed on...
FLANNERY Family History
Recorded as O'Flannery and Flannery, this ancient Irish surname was originally a nickname. It derives from the words "flann" meaning red and "abrha" - an eyebrow! From this it is easy to deduce that the original chieftain was a man with prominent red eyebrows, and probably a Viking. It is not generally appreciated that the "Norsemen" settled in Ireland many years before they transferred their "affections" to the British mainland. Dublin was the capital of the Irish Viking kingdom in the 10th century a.d., and it is probable that the O'Flannery clan were from this origin. It is true that since the 14th century they have been associated mainly with County Mayo on the west coast, and also the barony of Connelloe in County Limerick, although in a further move at least one sept moved east to County Tipperary in the 18th century...