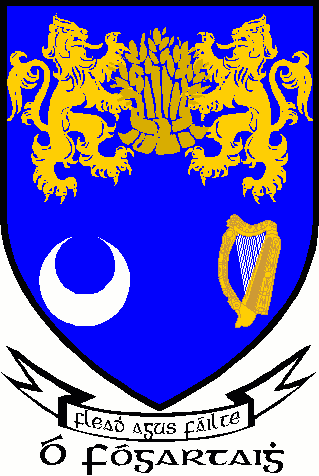 Get this crest printed on...
FOGARTY Family History
This name, with variant spellings (o) Fogerty, Foggarty, Fogaty, Gogarty and Go(g)erty, is an Anglicized form of the old Gaelic "O Fogartaigh". The Gaelic prefix "o" indicates "male descendant of", plus the personal byname "Fogartach" meaning "banished" or "exiled". The Fogartys are of the ancient population group, Dal gCais, otherwise known as the Dalcassians, who inhabited county Clare with adjacent parts of counties Limerick and Tipperary. Eliogarty, the name of a barony in Co. Tipperary, locates the sept, and indicates their importance. The majority of present day namebearers are found in county Tipperary and Malachy O' Fogarty, of the University of Paris, who flourished in 1700, was born at Castle Fogarty in that county...