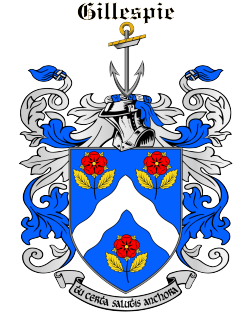 Get this crest printed on...
GILLESPIE Family History
Recorded in several spellings, this interesting surname, is of pre 10th century Gaelic-Scottish origin. It derives from Mac giolla Easpuig, meaning 'The son of the bishop's servant. Widely recorded in Scotland, the origination is from the Roman Latin word 'eposcopus' meaning bishop or leader, although why this should be, since no other Gaelic name has any sort of similar origin, remains a mystery. In Ireland the surname is chiefly recorded in County Down, Ulster. These Gillespies who came from Scotland, were erenaghs or hereditary landlords, who managed the local church lands. In Scotland Ewan Gillaspeck witnessed a charter by Alwin, earl of Levenax, in circa 1199, whilst Guileaspos Cambell, who in 1360 invaded the county of Northumberland in England, is the forerunner of the later Gillespies of that county...