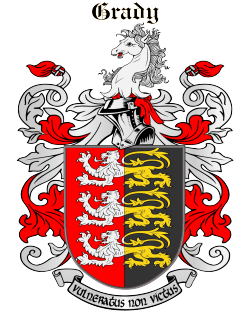 Get this crest printed on...
GRADY Family History
This notable name, with variant spellings O'Grady, O'Grada and the rarer form Gready, is an Anglicized form of the Old Gaelic "O' Gradaigh". The Gaelic prefix "O" indicated "male descendant of", plus the personal byname "Gradaigh", from "grada", the illustrious one. This sept belonged to the Dal gCais (otherwise known as the Dalcassians), embracing the main septs of Thomond, an ancient territory comprising most of County Clare, with adjacent parts of Counties Limerick and Tipperary. The seat and territory of the Chief of the Name was at Killballyowen, County Limerick. It is interesting to note that "The O'Grady" is one of the few whose claim to chieftainship is officially recognised in Ireland...