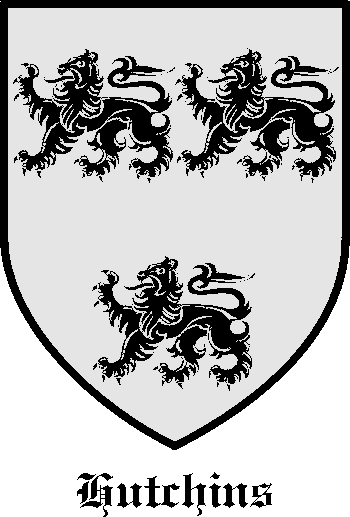 Get this crest printed on...
HUTCHINS Family History
Recorded as Hutchen, Hutchin, Huchin, Hutchence, Hutchens, Hutchins, Huchings and Hutchinges, this is an English surname although ultimately of Norman-French and even Germanic origins. It derives from the medieval given name "Huchin", a diminutive of the personal name "Hugh", introduced into Britain by the Normans after the Conquest of 1066. This originates from the pre 5th century Germanic word "hug", meaning "heart, mind or, spirit". The suffix "s" where it exists denotes "son of". The surname dates back to the early 14th Century (see below), and other early recordings include: Richard Huchins in the Subsidy Rolls of Worcestershire in 1327; Edith Huchenes in the Subsidy Rolls of Staffordshire for the same date; and John Huchouns in the Court Rolls of the borough of Colchester in 1357...