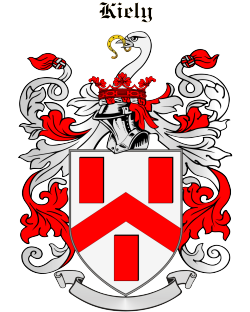 Get this crest printed on...
KIELY Family History
Kiely is an Anglicized form of the Old Gaelic "O' Cadhla". The Gaelic prefix "O" indicates "male descendant of", plus the byname "Cadhla" meaning graceful or beautiful; hence, "descendant(s) of the graceful one". This name is chiefly found in the Munster counties of Waterford, Limerick and Cork. The variant spelling Keeley appears in Counties Galway and Wicklow, and Kealy is a County Kilkenny variant. The forms O' Quelly and Que(a)lly, recorded in Counties Clare and Waterford, in Petty's census, dated 1659 are accepted by Dr. Lynce in his "Cambrensis Eversus" as further Anglicizations of O' Cadhla - "O Cadhla sive (otherwise) Quaelly"...