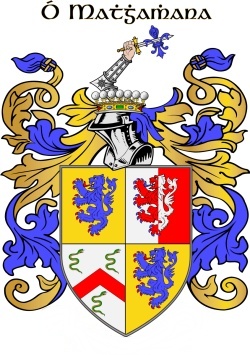 Get this crest printed on...
MAHONEY Family History
(Or Mahony) The name comes from Mathghamhan, son of Cian Mac Mael Muda, a 10th century prince and his wife, Sadbh, who was the High King Brian Boru?s daughter. They were of the Eoghanacht, a regal dynasty of Munster. Their Munster possessions were vast. They sprinkled their 14 castles all around the Cork coast, west to Mizan Head. Many of their descendants are still there, many more scattered into new septs or emigrated.