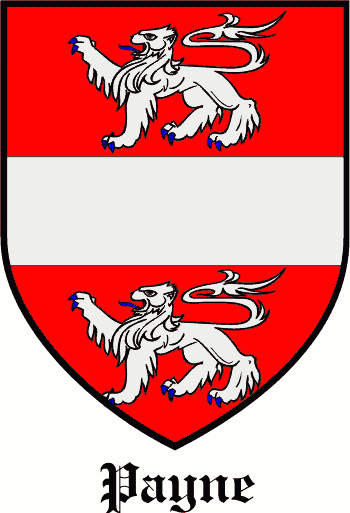 Get this crest printed on...
PAYNE Family History
This famous surname spelt in many forms including Pain, Payn, Payne, Paine, Paines, Paynes, Pagan, Pagon and Fitzpayn, is medieval English but of French and ultimately Roman origins. It derives from the pre 7th century personal name "Pagen", itself from the word "paien" and the earlier Latin "paganus". The original meaning was a villager or rustic, and later a heathen! Curiously this unusual background does not seem to have proved a bar to its popularity as a Christian name. In England it is first recorded in the famous Domesday Book of 1086, with that of Edmund filius Pagen of Somerset, whilst Reginoldus filius Pain appears in the Knight Templars (Crusader) register of Lincolnshire in 1185...