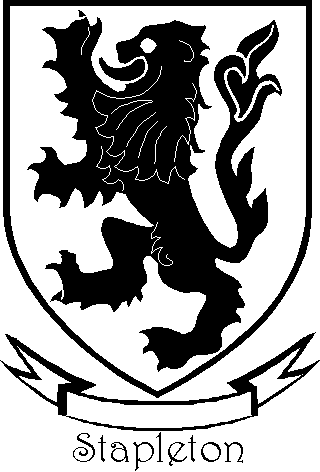 Get this crest printed on...
STAPLETON Family History
Recorded as Stapleton, Stapletun, and Stapletone, this is an ancient and noble English locational surname. It is also recorded in both Scotland and Ireland, although again the origination is from England. It originates from any of the various places called Stapleton in the counties of Cumberland, Gloucestershire, Hereford, Leicester, Shropshire, Somerset and particularly Yorkshire where various branches held great estates from medieval times. The earliest recording of the place name is to found in the Domesday Book of 1086 as Stapletone, Staplentun, and Stapleton. With exception of the Somerset place name, all appear to derive from the Olde English pre 7th century words 'stapol', meaning a boundary post or possibly the meeting place of the local court or parish council, and 'tun', a hamlet or settlement...