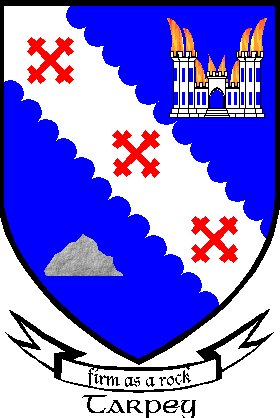 Get this crest printed on...
TARPEY Family History
Recorded as Tarpley, Tarplee, Tarpey, Taupy, Torpie, Turpie and no doubt others, this is an English surname. It is a short or slang spelling and pronunciation of Tarporley, a village in the county of Cheshire. Taporley is first recorded in the famous Domesday Book of 1086 as Torpelei, and in the Chartulary of the Abbey of St. Werburgh in Chester in 1293 as Torperley. The derivation is from three pre 7th century words torr, meaning a rocky hill, peru, a pear, and leah, a grove, to give a meaning of the pear grove by a high rock. This would seem to be correct as Torporley stands by a prominent hill...