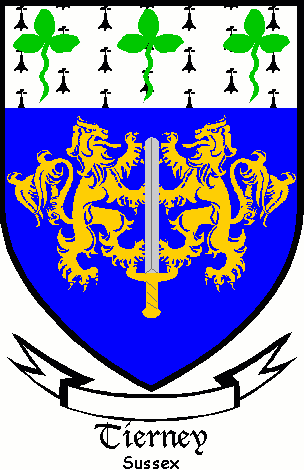 Get this crest printed on...
TIERNEY Family History
Recorded in several forms as shown below, this is an Irish surname. It derives from the Gaelic O' Tighearnaigh, meaning the grandson or male descendant of Tighearnach, the latter translating as lord or master. Traditionally Irish family names are taken from the heads of tribes, revered elders, or from some illustrious warrior, and are usually prefixed by O' or Mac, denoting "son of". This surname is especially widespread in County Galway, whereas the earliest recording is found in County Limerick in the early 18th Century (see below). In the modern idiom the surname can be found recorded as Tierney, Tierny,Tiernaney, O'Tierney, Tearny, Tearney and Terney...