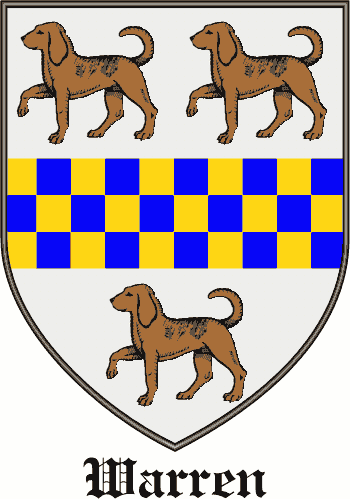 WARREN Family History
INTRODUCTION
Recorded in the modern spellings of Warren and the much rarer Warran and Warron, this is an English surname, but one of medieval French origins, of which there are three. The first is locational from the village of La Varrenne in the departement of Seine-Maritime, and meaning the place on the sandy soil. The second topographical and describing someone who lived by a game park, whilst thirdly it may be occupational for someone employed in such a place. If so the derivation is from the Norman French word "warrene", meaning a warren or land set aside for breeding game. Introduced into England and Scotland after the Conquest of 1066, the surname is one of the earliest on record as shown below...
SURNAME
Warren (Variants: Warran, Warrand, Warrant, Waring, Wharin, Werren, Garon, Warin, Warne, Warrens)
An English relationship name from the Middle English (Old French) personal name Warin, Werin, similarly Germanic Warin, Werin. The spellings Garin, Gwarin of the names of early bearers represent the Parisian French form G(u)arin .
Although, An English and Irish (Norman origin) locative name from Varenne (Seine-Maritime, Normandy), the name of a major Norman family after the Conquest, it is named with a Gaulish element from the word vearenna. It is perhaps descriptive of alluvial land or sandy soil or alternatively meaning an "enclosed area".
Also, in Irish it is adopted for Ó Murnáin (Murnane).
Early medieval bearers include; Robertus filius Warini (Warin), 1086 in Ely Inquisition (Cambs); John Waryng,1275 in Subsidy Rolls (Worcs); Semannus Waryn,1332 in Subsidy Rolls (Stokenham, Devon); Richard Weryn,1332 in Subsidy Rolls (Preston and Hove, Sussex); Roger Warenge,1478 in London Letter Books (Lincs).
Post-medieval bearers include: John Warren alias Waryng,1512 in Oxford University Register; John Warren,1560 in IGI (Ash next Ridley, Kent); Josephus Warren,1630 in IGI (Sheffield, WR Yorks); William Wairin,1665 in Parish Registers (Rothwell, WR Yorks); Thomas Warring,1674 in Hearth Tax (Suffolk).
In 1891, the surname location was widespread across England with 23,264 occurrences recorded in England and Wales and 213 in Scotland. Devon was a top county of the surname with 1,404 occurrences.
In 1881, the most common Warren occupation in the UK was Agricultural Labourer with a less common occupation being Carpenter. Agricultural Labourer, Farmer and Labourer were the top 3 reported jobs worked by Warren.
Previously, the noted Samuel Warren (1807-1877) was an English lawyer and author of Passages from the Diary of a late Physician.
Edward Warren, an English convict, was transported aboard the "Argyle" on 5 March 1831, settling in Van Diemen's Land, Australia.
1881, 1891 Census
1881 Census in Devon
Dictionary of American Family Homes, P Hanks OUP 2003
Homes of Family Names in Great Britain, H.B. Guppy, London 1890
The Oxford Dictionary of Family Names in Britain and Ireland, P.Hanks, Coats, McClure OUP 2016
1860 Lower, Mark A Patronymica Britannica: a dictionary of the family names of the United Kingdom, London: J.R Smith. Public Domain
1857 Arthur, William An Etymological Dictionary of Family and Christian Names. New York: Sheldon, Blakeman. Public Domain
https://convictrecords.com.au/ships/argyle/1831
J.M.P