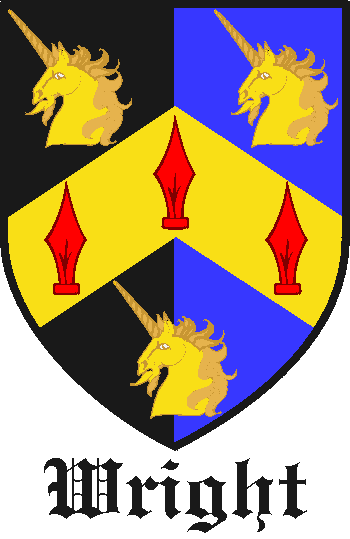 Get this crest printed on...
WRIGHT Family History
Recorded in several spellings including the popular Wright, as well as the much rarer forms of Wrighte, Wraight, Wraighte, Wreight, Wrate, and patronymics Wrightson and Wrixon, this is an early English surname. It is occupational and was used to describe a maker of machinery or objects, mostly in wood. The derivation is from the Olde English pre 7th century word 'wyrhta' meaning a craftsman, itself from the verb 'wyrcan', meaning to work or construct as in wheelwright, cartwright, millwright and wainwright. When 'wyrhta' was used on its own, it often referred to a builder of windmills or watermills. Perhaps not surprisingly this is one of the first occupational surnames to be recorded, and early examples include Robert Wricht of Shropshire in 1274 and Thomas le Wrighte of Derbyshire in 1327...